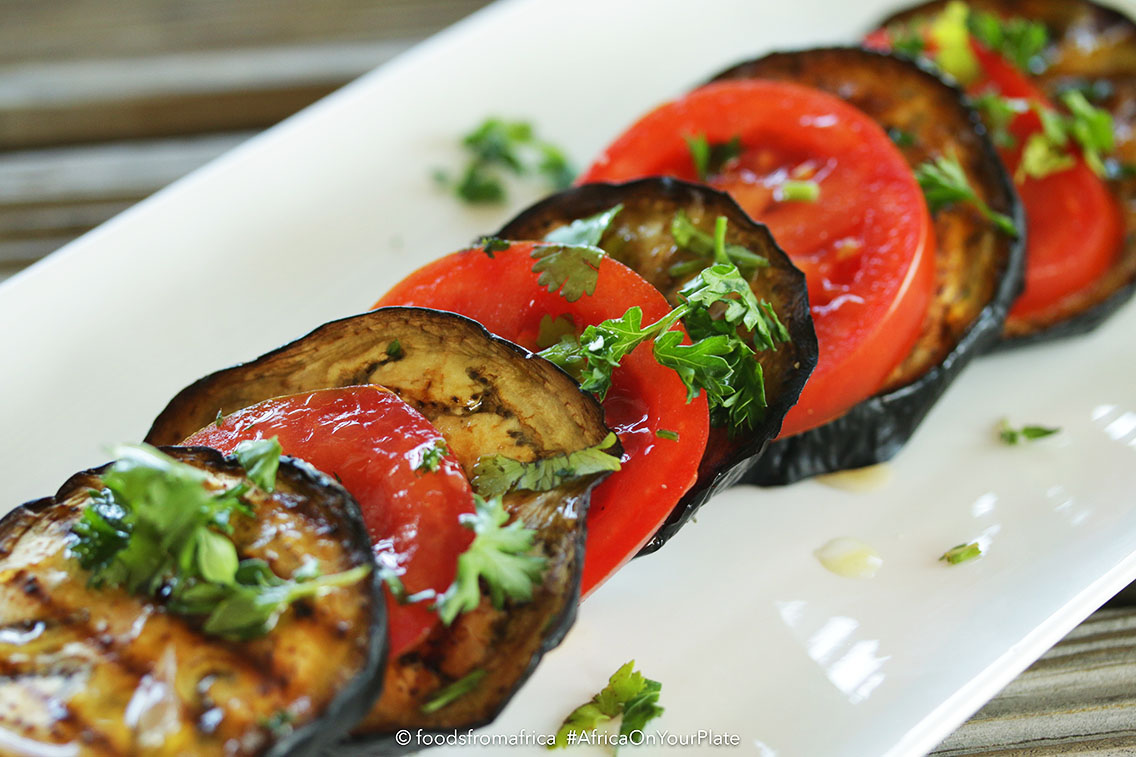 I recall a conversation I had with Le Hub when we were dating many years ago. I'd asked what three foods ranked lowest on his list, and to my greatest surprise, he reeled off two of my favourite foods – okra and aubergine. I sat in silence as I started pondering strategies to get Le Hub to see these beautiful veggies in a new light.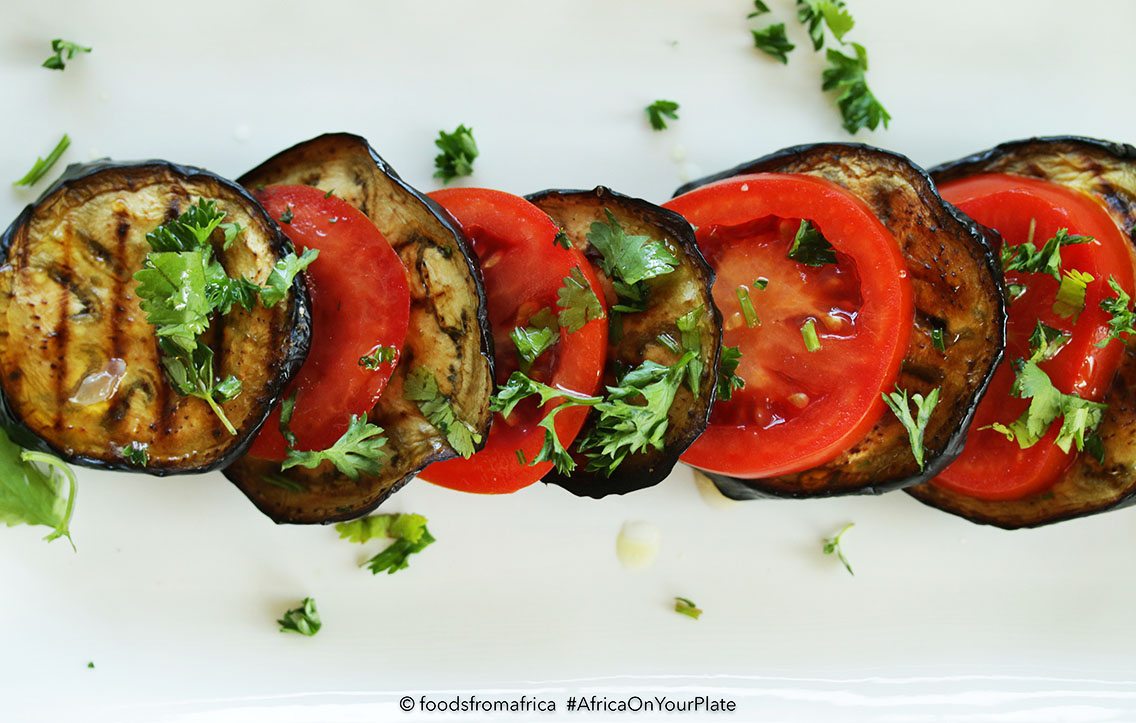 One of Le Hub's main issues with Aubergine was the bitterness, which detracts from the flavour. I can totally relate – I've had a few bitter tasting aubergines in my time, given my love for them. But the other issue, also of burning priority, is how to cook these beauties. Unless you are stewing or pureeing, aubergines can be a home-cook's nightmare dressed as a dream. Because underneath that luscious, shiny, beautiful deep purple coat, lies the truth about aubergine – spongy, bitter and tough – and these not-particularly-attractive qualities coupled with poor cooking technique can leave one with a greasy, bitter and spongy mess.
However, there is something deeply satisfying about a plate of meaty, flavoursome, perfectly grilled aubergines, and unlocking the secret of aubergines requires just a little science.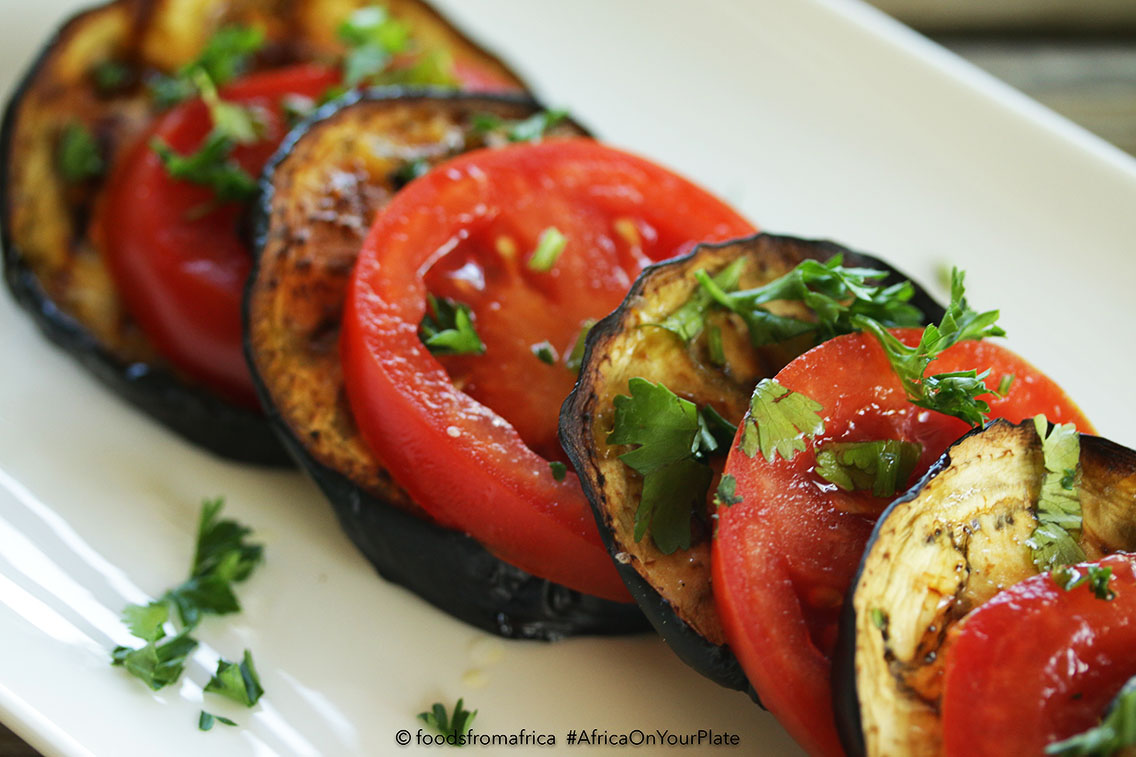 I've already talked about the Aubergine Sex issue, in a previous post, and building on from that, aubergines contain plant steroids called glycoalkaloids and steroid saponins. In plants, saponins serve as a defence mechanism, in order to protect the plant against invasive parasites, and so more often than not, saponins are bitter to taste, so as to reduce the palatability of the plant.
The glycoalkaloids are mainly found in the flesh of unripe aubergines, while the saponins are mainly concentrated in the seeds. These chemicals are responsible for the bitter taste of aubergines. As a home-cook, this information is key to selecting the right aubergines to buy. The seeds in an aubergine increase in number as the aubergine ages, so the best aubergines are young, but ripe ones, which are those that will have the fewest seeds.
One trick I use always with aubergines is salting. By placing salt on a slice of eggplant and leaving that to rest for an hour, the process of osmosis is triggered. Salt triggers osmosis by attracting water and causing it to move toward it, across a cell membrane. As the water is drawn out of the aubergine, some of the bitter compounds are also drawn out as well, reducing the bitterness somewhat.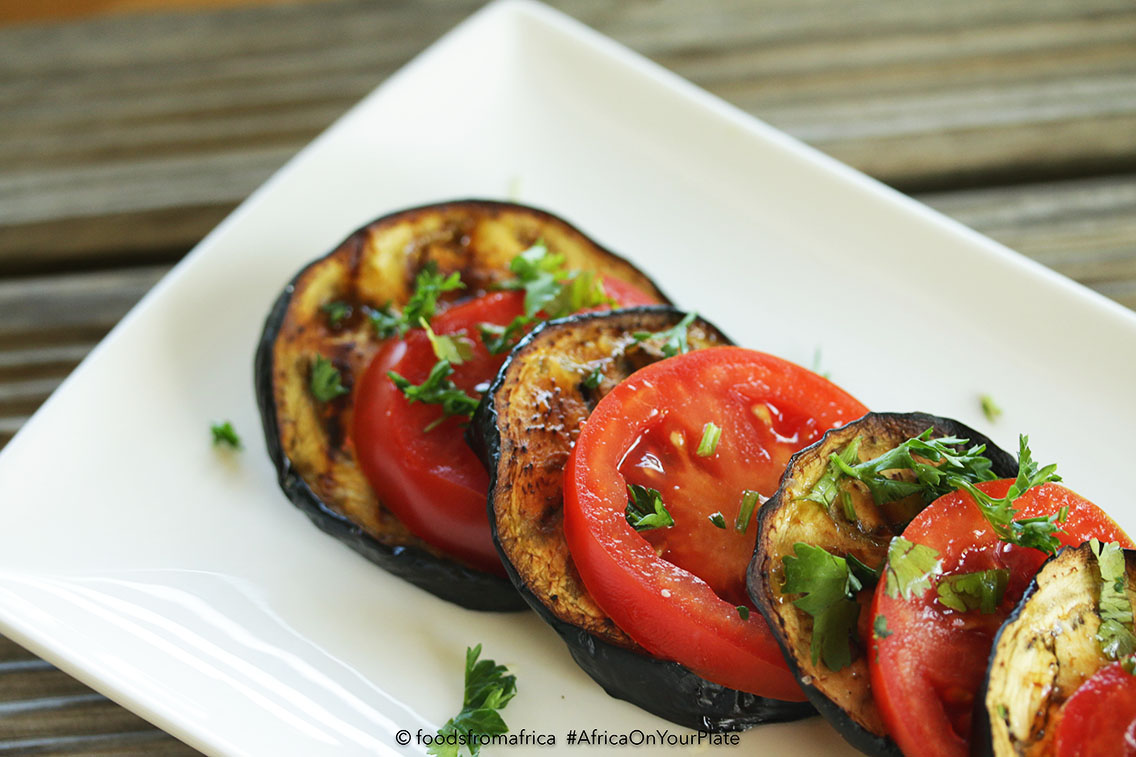 After one hour, I then wrap the eggplant in a kitchen towel and blot dry. This achieves two objectives – first, it removes any excess water from the aubergine slices, and secondly, by applying a little pressure while blotting dry, you also collapse some of the air pockets in the cells of the aubergine, which means the aubergine will absorb less oil when you get round to cooking it.
Now that we've addressed the issue of bitterness, let's move on to the issue of flavour. How one vegetable can be bland and bitter at the same time is a question I have heard asked over and over again in close quarters. And while I think those descriptive adjectives are a little harsh, I must confess that aubergines' earthy quality, no matter how smoky, isn't exactly drool-worthy.
However, as a paradox of sorts, aubergine's weakness – its' blandness – is also its strongest defining character where flavour is concerned. Aubergine makes a perfect canvas for other flavours to sit on, and develop. Sweet and tangy are perfect complements to aubergine – in my humble opinion, and this marinated tomato and grilled aubergine salad is an easy, low-calorie and vegan recipe incorporating these flavours.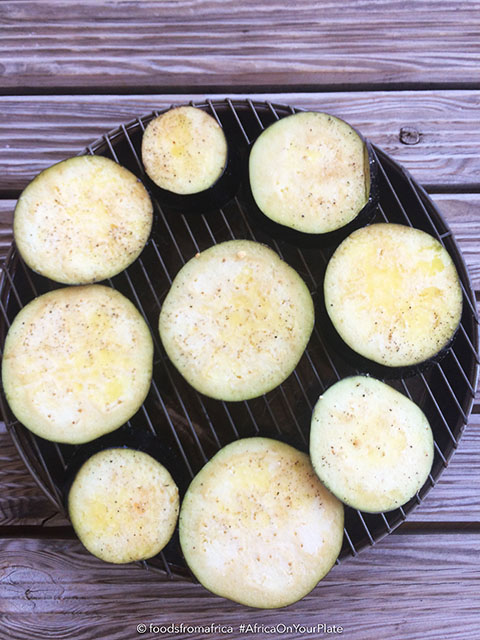 To bake the aubergines, I brush a generous amount of oil on each slice, along with a dash of salt and black pepper. When eggplant slices are heated, pectin, which contributes to the rigidity of the vegetable, breaks down and the cells are no longer held tightly together. Moisture loss also occurs contributing to the further collapse of the tissues. The further collapse of the air pockets releases some of the oils which were absorbed by the aubergine, which, when then combined with the tomatoes and marinade, allows the aubergines to become infused with the flavours of the herbs and spices, resulting in a rather heady and aromatic side dish.
And on that note, I am off to Aubergine Land!
Sprinkle the eggplant slices with salt on both sides. Allow to drain over a bowl for one hour. Then discard the liquid and rinse the slices in cold water. Pat dry with a paper towel, pressing down slightly to get rid of excess water.

Set your oven to 160ºC (Fan-assisted) or 180ºC. Generously brush both sides of eggplant slices with oil and sprinkle some pepper. Bake for 7 - 10 minutes per side, flipping over once, until browned and softened. lightly charred.

For the dressing, whisk together the oil and lemon juice, stir in the coriander and thyme, and season to taste.

Layer the baked aubergines with the sliced tomatoes, then drizzle the dressing over the salad.
Is this recipe right for you?
Nutrition Facts
Marinated Aubergine and Tomato Salad
Amount Per Serving
Calories 358
Calories from Fat 297
% Daily Value*
Total Fat 33g 51%
Sodium 88mg 4%
Potassium 757mg 22%
Total Carbohydrates 18g 6%
Protein 3g 6%
* Percent Daily Values are based on a 2000 calorie diet.

Related posts: