An Easy, Healthy and Paleo Cassava (Yuca) Salad That Is Perfect For Lunch/Dinner and Only 344 Calories
.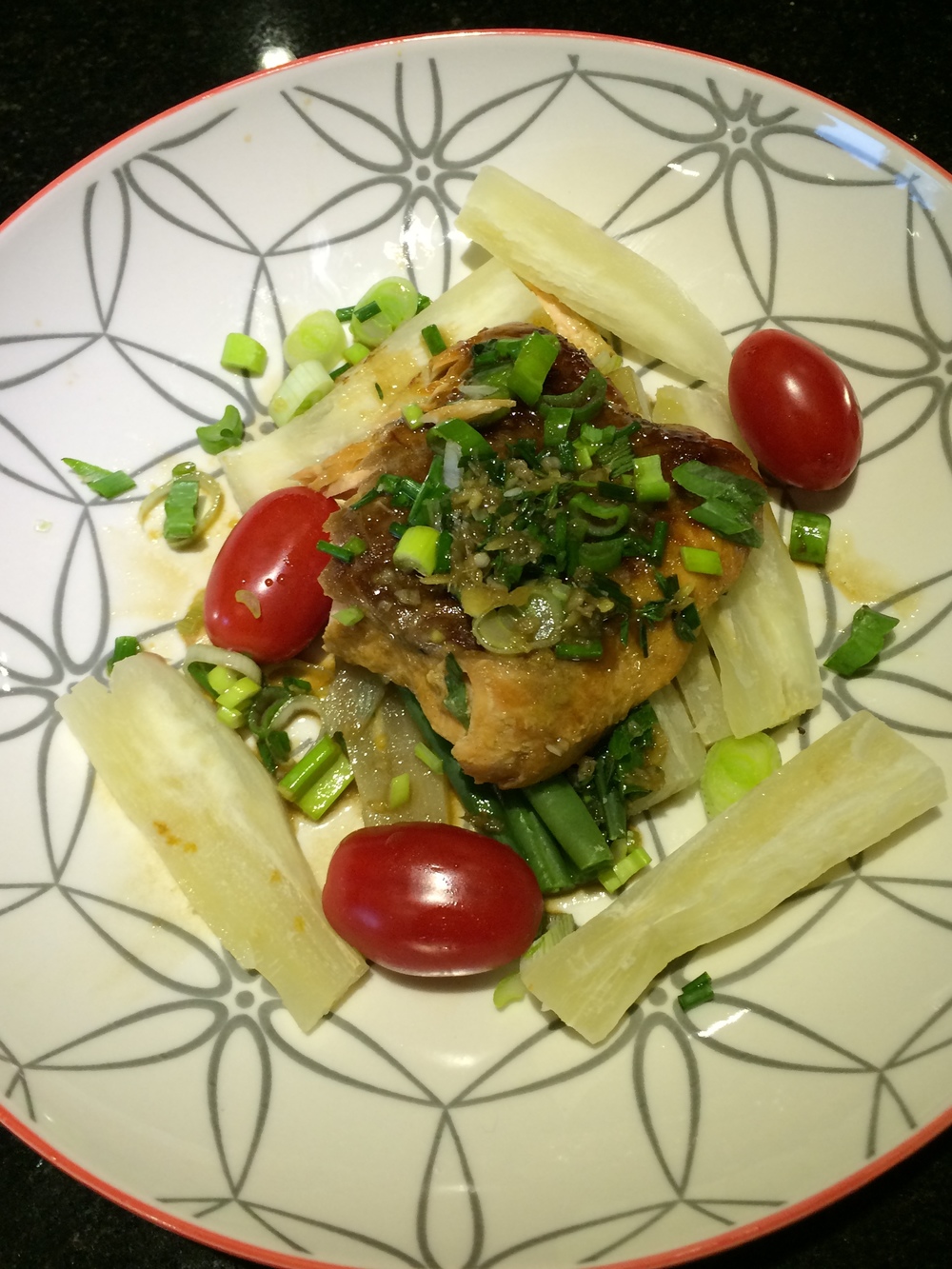 .I was causally strolling down the grocery aisle at my local supermarket the other day when I caught sight of this "unusual" tuber amongst the pile of root vegetables. Unusual because I don't recall ever seeing it there – I would have recognised it instantly, a tribute to my tropical and African heritage. Nonetheless, it was sitting right there, proudly between the sweet potatoes and the avocados, and my heart skipped a few beats!
Say hello to the humble cassava (yuca), also called tapioca, manioc and yuca. I was ecstatic to find cassava on the shelves of my mainstream supermarket in Alpine Switzerland. Because, such "ethnic" vegetables are usually confined to the shelves of ethnic food stores.
I have had a sort of evolving and interesting relationship with cassava for as long as I can remember. As a child, this was one of my least favourite vegetables for a few reasons, the main one being the preparation method. The most prevalent way of preparing cassava back home then (and still is) is to ferment and process it into other foodstuff like Gari or Fufu which are meant to be consumed by swallowing as opposed to chewing. As I had more of an inclination to chew my food, I was naturally averse to these sorts of dishes.
.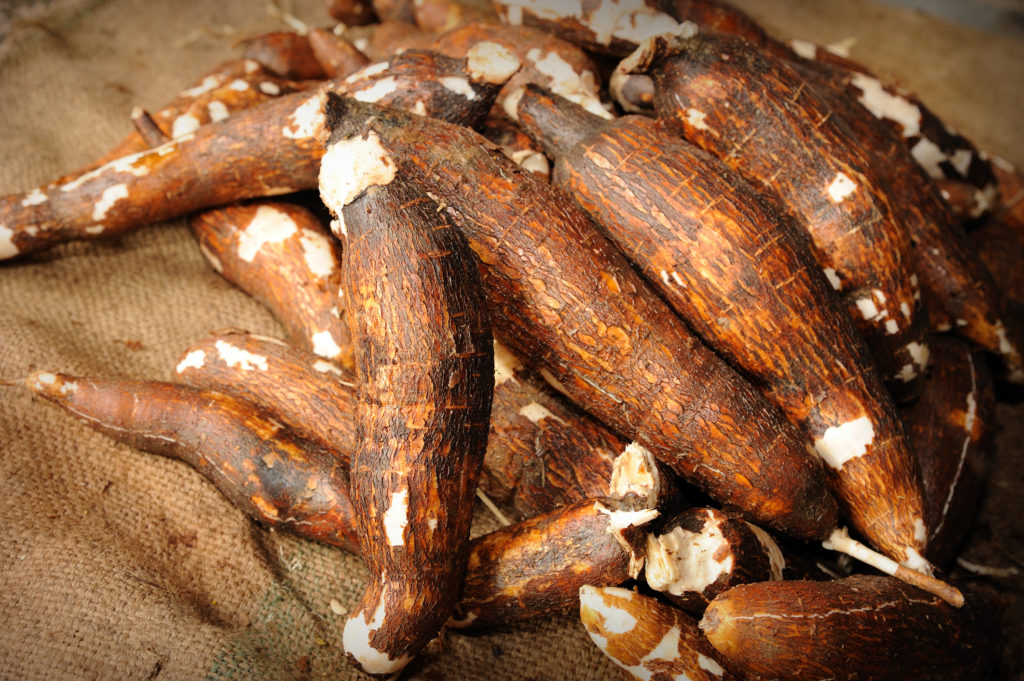 .
As an adult, my relationship with cassava has matured into one of pure love as my grown-up palate appreciates the nutty, earthy flavour of cassava which really comes into its own when paired with the right partner. I still have an inclination to chew my food (that has not changed) as this act of chewing gives me ample opportunity to savour and relish the flavours of food for longer.
So left to my own devices, I prefer to prepare my cassava in a way that affords me this simple pleasure. Introducing my adaptation of an old Ugandan recipe for Cassava salad, which I hope you will enjoy. I have decided to pair my cassava with honey-mustard grilled salmon and oh joy awaits..
.
---
.
Peel and chop the cassava julienne-style. Add the julienned cassava to a pan. Fill the pan with water to completely cover the cassava. Season with some salt and bring to a boil. Reduce the heat to medium and cook till the cassava is soft. This should take approximately 30 minutes.

Using a dash of oil, fry the crushed garlic and thyme for about 2 – 3 minutes until the aroma is released.

In a glass bowl, combine the olive oil, balsamic vinegar, orange juice, honey, mustard, salt and pepper. Add the garlic and thyme mix to the bowl and whisk until all the ingredients are thoroughly combined and emulsified. Set your vinaigrette aside at room temperature until ready to serve.

When the cassava is almost done, snap the ends of your green beans and blanch.

To serve, combine the cassava, green beans, cherry tomatoes, chives and spring onions. Pour over the vinaigrette dressing and enjoy.
How to Blanch Green Beans
Salt a large pot of water, and bring to a rolling boil.
At the same time, prepare an ice bath. You will need this to shock your beans and stop them from continuing to cook, when you bring them out of the boiling water bath.
Place your beans in the boiling water and allow it to sit for 2 - 3 minutes. Then remove the beans and drop them in the ice water bath. Allow the beans to remain in the ice bath for 3 minutes or until the beans have fully cooled down.
Remove them from the ice bath and dry them. Set the beans aside for use.
.
Is this recipe right for you?
.
Nutrition Facts
Cassava (Yuca) & Salmon Salad Recipe
Amount Per Serving
Calories 344
Calories from Fat 126
% Daily Value*
Total Fat 14g 22%
Sodium 85mg 4%
Potassium 696mg 20%
Total Carbohydrates 53g 18%
Protein 4g 8%
* Percent Daily Values are based on a 2000 calorie diet.
.
---
.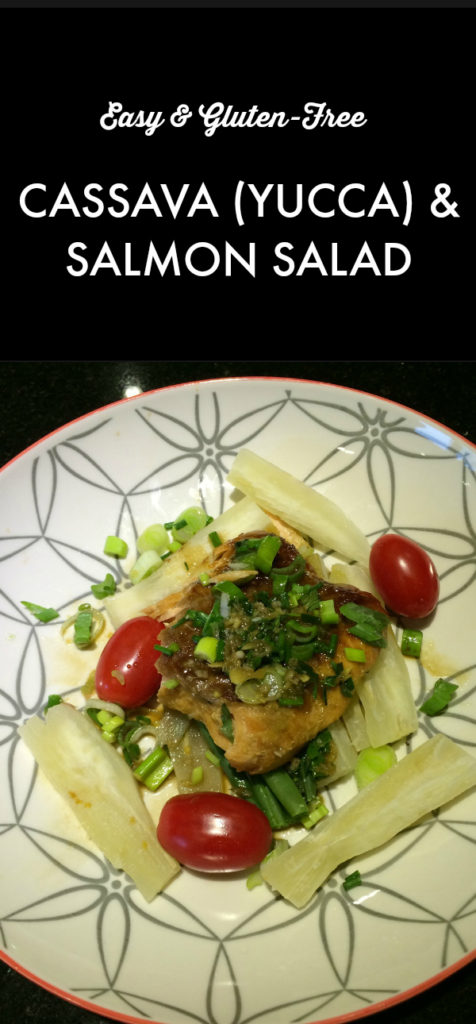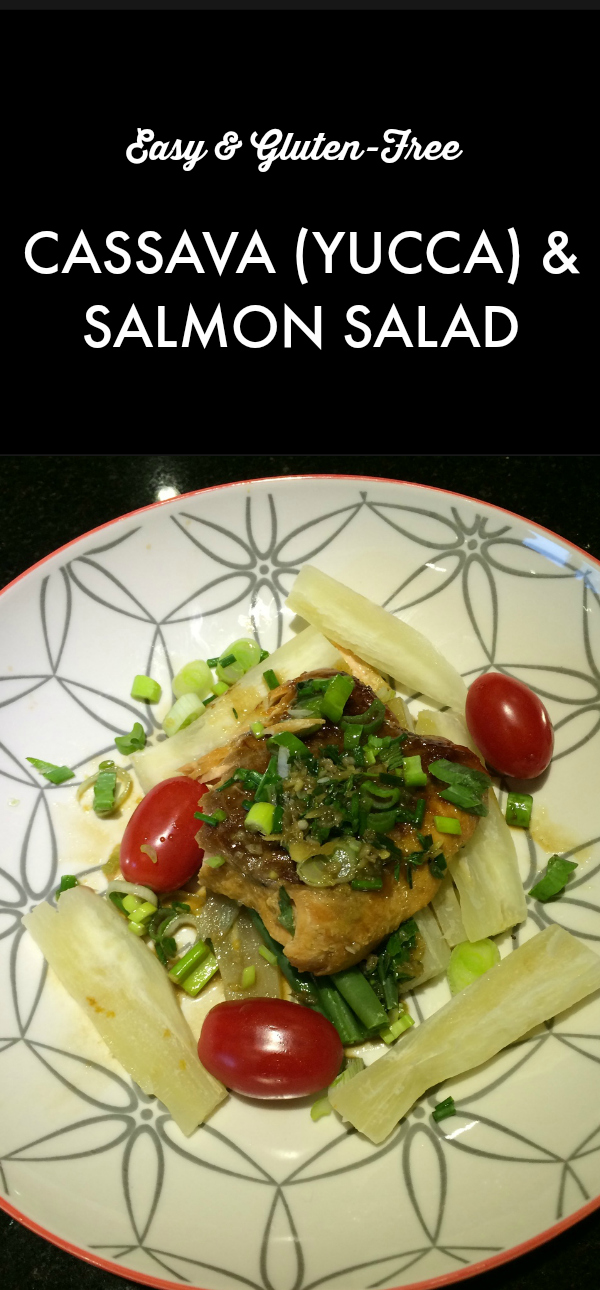 .
---
What do you think?
.
Leave me a comment below!
.
Laters,
.
Emem..xo

Related posts: